Julep's Daisy and Mila have been sitting in my box of untried polishes for awhile since summer is coming to a close I figured to give Daisy a try.

Daisy is a bright off mustard yellow, a tad darker. It is a very thick polish. Applies streaky. It's actually not a very fun polish to apply nor does it dry as fast as other Julep polishes I have. I personally can not stand this color. It looks pretty in the bottle but this yellow clashes with my skin tone. I also can see my nail line which is automatic no go for me.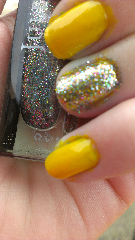 I then layered Julep's Mila a rainbow glitter in a clear base over my ring finger to try make this mani wearable until I can change it again. I really like Mila for the ease it is to apply and how opaque it is in two coats. It reminds me of opi rainbow connection but with much smaller glitter. I wish you could see all the different color glitters in this photo but my camera couldn't pick them up. It's a very fun and pretty polish. The best part of this polish is that it only needs one coat of a top coat to make the nail smooth again!!
VERDICT I wouldn't use Daisy again but I know I will be reaching for Mila again to add some color to bad manis and it's perfect for using as the ring finger glitter!